Multi-Award-Winning Design and Construction
Creating Luxury Homes for Over 40 Years
Unique
Home Designs
We create homes unique to your lifestyle and budget, through our in-house, consultative design process. Whether it's a knock down rebuild or vacant block, our award-winning team creates a design that's an expression of your unique style. We then build your one-of-a kind home, embodying quality, and integrity.
Turnkey Homes,
Zero Risk
Move-in ready, designer homes on selected sites. Settle when the house is completed, no building progress payments, zero risk. We've totally reimagined house and land packages, delivering incredible savings. This is luxury living at an affordable price.
Virtual
Home Tours
Take an immersive virtual tour through our uniquely designed homes and see for yourself how our high-quality homes look and feel. As you navigate each space, imagine the feeling of having your dream home meticulously designed and brought to life by a team with over four decades of success.
We're a family-owned, design and construction company with an extensive portfolio of multi-award-winning homes throughout northern New South Wales and Southeast Queensland. Renowned for innovation in design and high-quality craftsmanship, our team's vast technical knowledge and industry experience has propelled our reputation for building excellence for over 40 years.
At our heart we're a creative team of designers, project managers and skilled trades, passionate about incorporating your individuality into the design of your home, to create the perfect living spaces for you and your family.
As Master Builders, our reputation is synonymous with innovation and craftsmanship, coupled with a commitment to value and attention to detail. Creating a new culture in the construction industry, which articulates design, quality and our clients' personalities into each and every home we build, Anstey Homes has been recognised by the industry, winning multiple awards at a State and local level, for homes that are created to reflect style and functionality.
"When my wife and I bought a block of land, we engaged an architect to design our dream home. But unfortunately, the architect was unable to meet our design within budget, and that's where I went to Anstey Homes to help. The team came up with a fantastic design, which was functional, met the landscape and included everything we wanted. We've really enjoyed working with Anstey Homes, and we recently engaged them again to build a rumpus room for the children at the end of the swimming pool. For a practical design and construction at a realistic price, I recommend Anstey Homes."
Rami M
NSW
"After 12 months of going round in circles with other builders, I contacted Anstey Homes. The Anstey team really saved the day with their transparent pricing, innovative design, and integrity. As someone building for the first time, you need a team you can count on and that's what I found with Anstey Homes. You aren't passed around from department to department. Instead, at Anstey Homes, you have central points of contact with knowledgeable people who really care about the entire design and build process. My dream home is now becoming a reality. Thank you, Anstey Homes!"
Veronica J
QLD
"We needed to upgrade our small holiday cottage. We looked around the Cabarita Beach area and walked into a display home by Anstey, and we were very impressed. We knew we needed a custom design to meet our lifestyle and family needs and throughout the process, we ended up with a plan we were very happy with. During the build process, the Anstey team were great. They provided advice where needed on design and the Project Manager was excellent. The end result is a beautiful, quality home that suits our family's needs. I'd recommend Anstey to anybody who's looking to build."
Ross and Elaine T
NSW
"Anstey Homes came to the rescue when other builders let us down and have been exceptional to deal with. In only a couple of months, Anstey Homes was able to achieve for us what other builders couldn't achieve in nine months. I have met many building companies prior to engaging Anstey Homes and I can say that the team are the most genuine, reputable and committed to quality that I have met. I highly recommend Anstey Homes to anyone who is seeking a company that truly cares about the customer and is committed to standards of excellence."
John B
QLD
"My wife and I chose Anstey Homes for our new home in Northern New South Wales. We live in Victoria, and we needed help with an architectural design that would be sympathetic to the area and would incorporate our desires in the home and be really suitable for the climate. We just had a wonderful experience with lots of renders and design features coming through, and it all had to be done remotely.
Steve and Heather T
NSW
"When I decided to look for a new home, I asked an architect friend of mine who recommended Anstey Homes. And I was very pleased that she did because, they were people that I'd really looked to and had been impressed with for quite a long time. I felt the progress was really inspired, pre, during and post build. I valued Anstey Homes' professionalism, their great communication skills and friendliness and support throughout. I love my new home, my new yoga studio, and I feel that Anstey fitted the home to my needs and to me as a person, my personality. I'll recommend them to anyone."We've now visited the property and we're just bowled over. The quality is there, and the design exceeded what we thought it would be. It's just wonderful. Well done to the Anstey Homes team. Thank you."
Libbie N.
NSW
"The most important decision I had to make when building a home was to have a competent, friendly designer and quality builder with whom I could communicate. Phil Anstey met all that I wished and best of all, Anstey Homes did not compromise on building a quality home with their friendly, professional team. I cannot speak more highly of the Anstey Homes team."
Ben H
NSW
Unveiling The Shocking Secrets Of Home Building
A peek behind the curtain, industry truths revealed
Considering building a new home? Wait!! Claim your free copy of our 'must-read' guide! Click the button below, enter your details and get your free copy directly in your inbox.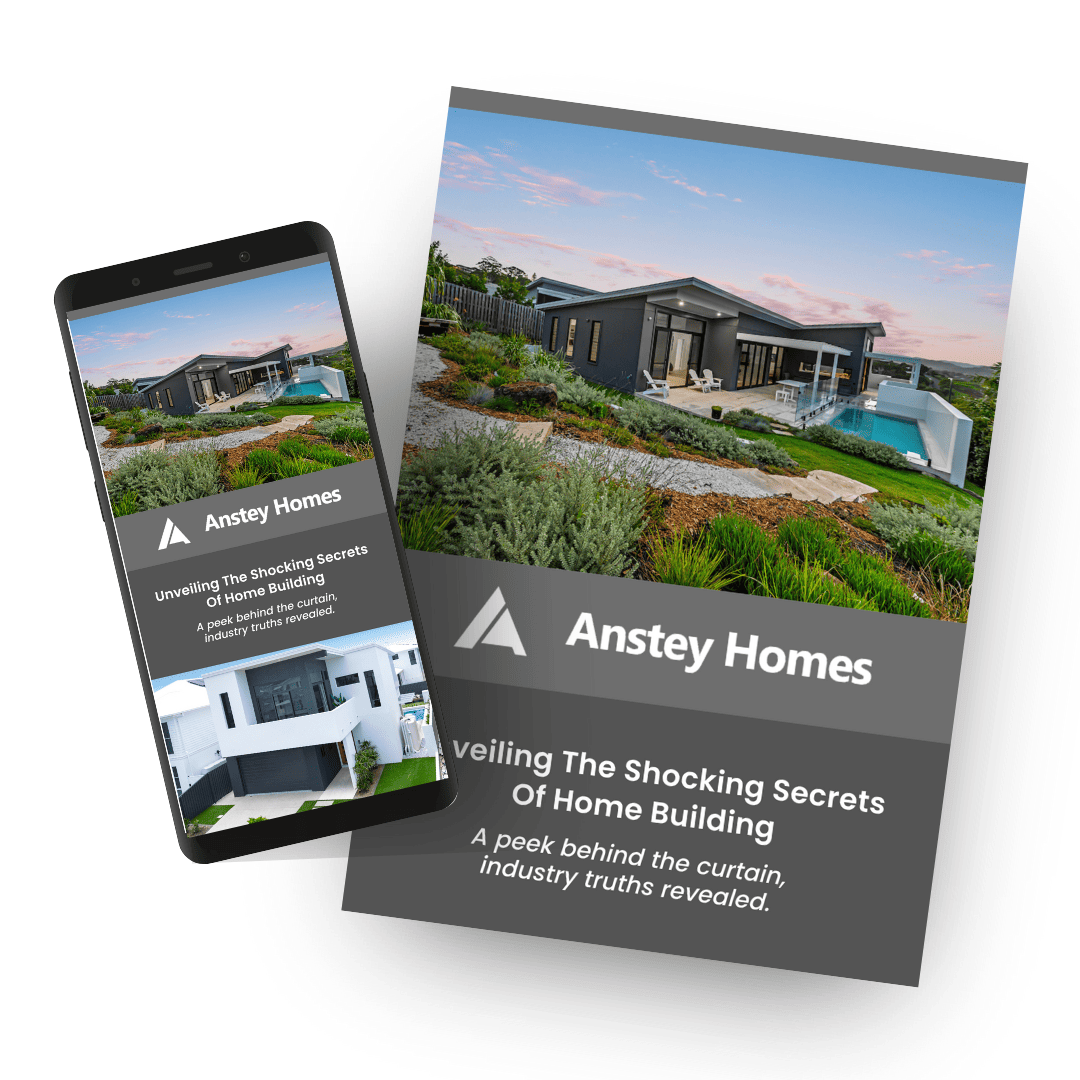 Get Social With Anstey Homes
We invite all requests for quotations.