Designing and Building With Passion
Designing And Building With Passion
Established in the 1980's, Anstey Homes is a family-owned, design and construction company. Primarily building throughout northern New South Wales and Southeast Queensland, examples of our award-winning homes can be found right along Australia's Eastern Seaboard.
Possessing a reputation built on four decades of construction excellence, our in-house team's extensive technical knowledge and industry experience have driven us to the forefront of design innovation and exceptional craftsmanship.
Unwavering in our commitment to upholding our reputation, we believe in forging transparent partnerships with all our clients. Through the delivery of a highly personalised service and friendly, professional communication, we make it simple and stress-free to design and build a beautiful home that's uniquely yours. And in these difficult economic times, we're proud to have helped many families who have been let down by other builders.
We're passionate about our industry and every home we build and are proud of our dedicated team including our long-term, local trades, who go over and above to achieve exceptional standards. We love what we do! Our directors, designers, trades and apprentices are all committed to bringing your dream home vision to fruition.
Proud of our heritage, we remain focused on the future and creating your dream home…by Design.
Anstey Homes has been a consistent standout in the construction industry, receiving numerous accolades in recognition of our exceptional work. Since the early 1990's to date, Anstey Homes has received consistent awards of excellence from Australia's peak building bodies, The Housing Industry Association and the esteemed, Master Builders Association.
These accolades speak volumes about Anstey Homes' unwavering commitment to designing and delivering premium quality and fostering innovation in every project undertaken. Through meticulous attention to detail, superior craftsmanship, and dedication to customer satisfaction, we have solidified our position as an undisputed industry leader. Our consistent success in these awards serves as a testament to the company's unwavering pursuit of excellence, setting the benchmark in terms of quality, design, and innovation in the housing sector.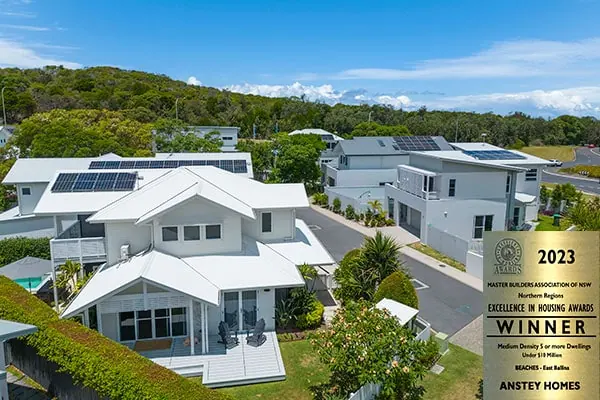 2023 MBA Awards Winner Medium Density Project Under 10Mil - Beaches, East Ballina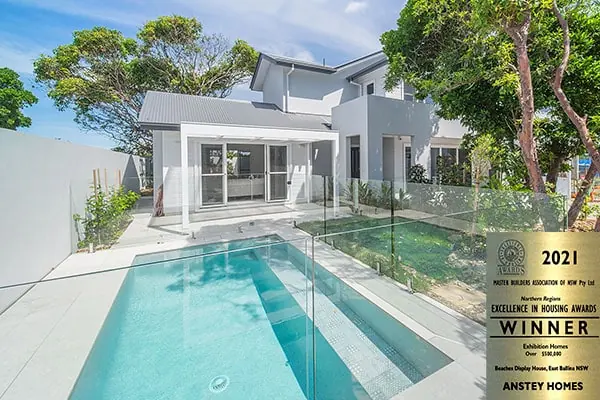 2021 MBA Awards Winner, Exhibition Homes Over 500K, BEACHES Display House, East Ballina
A Reputation Built On Success
As Master Builders, we've continued to push the boundaries of home design for over 40 years. Our reputation is synonymous with innovation and high-quality craftsmanship, coupled with a commitment to outstanding value and attention to detail. Our experts are dedicated to crafting unique homes that express your personality, passions and preferences, translating your style into a completely custom design that enhances your lifestyle.
Our specialists are ready to collaborate and create your dream home. And we'd love to get you started with a free phone consultation, to learn about your unique requirements, lifestyle, and budgetary needs. This is not a sales call. Instead, this is your opportunity to discuss your desires and have your questions answered by dedicated professionals whose building industry knowledge spans decades.
Enjoy the benefits of a free phone consultation with our friendly, industry experts today! Click the button below to get started.
Get In Touch and Start Your Journey With Anstey Homes
For more information about our award-winning home designs, custom homes or turnkey house and land packages, click the button to contact our team today.